Halloween has become a popular holiday for people of all ages. Around October 31, children and adults alike take to the streets dressed as pirates, princesses, witches, wizards, and many other imaginative characters. The Halloween celebrations can be as simple as trick-or-treating or as elaborate as hosting a costume party with friends.
There is so much to do to prepare for the holiday. One of the essential parts of preparing for Halloween is deciding what will be served at your party. Halloween food party ideas are plentiful. From sweet to savory, sweet to salty, kids to grown-ups, and everything in between, the options are limitless. This article provides some creative ideas to help you decide what type of food you want to serve this year.
Top fun Halloween party food idea
1. Caramel apples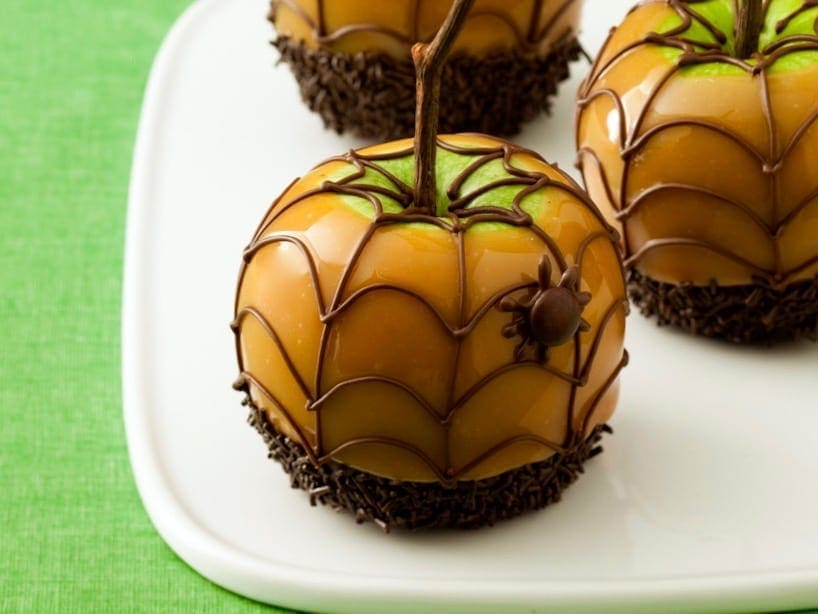 Photo from: Tara Teaspoon
Caramel apples are the quintessential Halloween treat. They are so simple to make which makes them the perfect last-minute addition to any party. As you walk down the street you may pick up the scent of these delicious treats wafting in the air. The sweet, buttery caramel with the crisp fresh apple is perfect for this time of year. Some people may choose to put nuts or sprinkles on their caramel apple, which is a great way to give it some added protein and fiber.
2. Pumpkin pies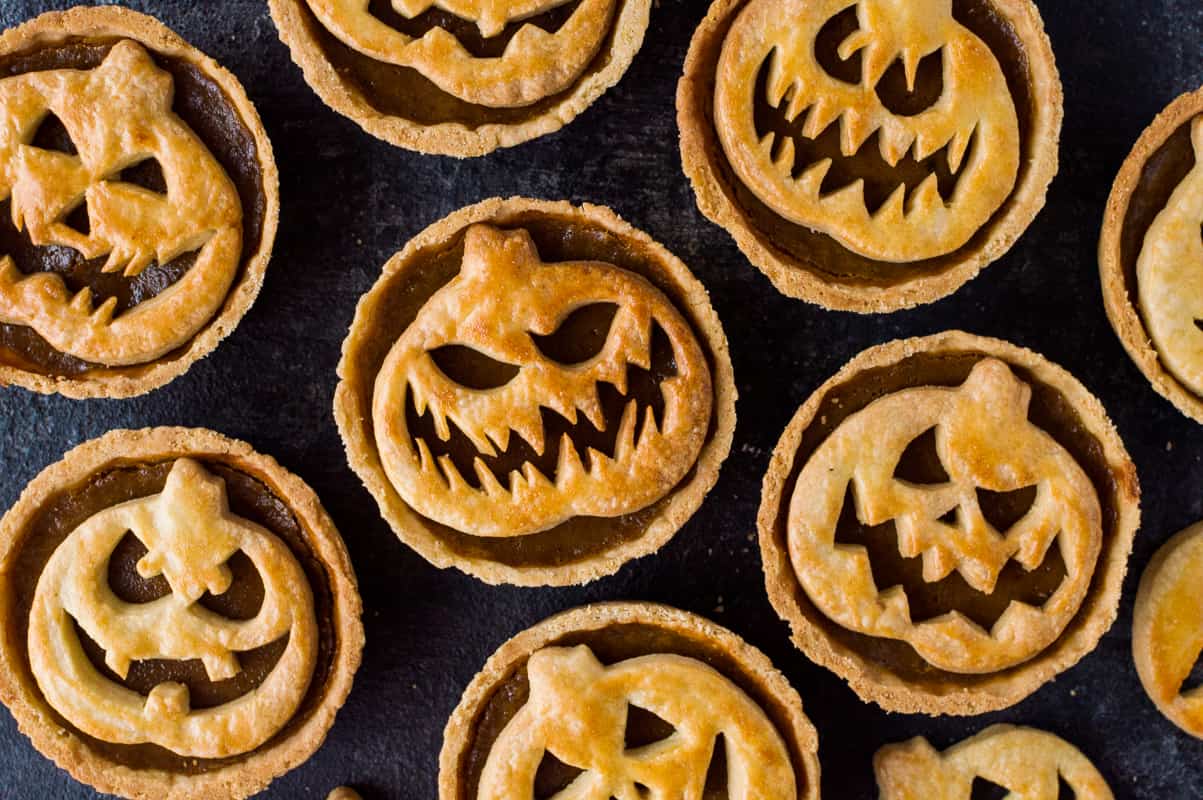 Photo from: DIYs.com
Pumpkin pies are a popular dessert for Halloween. They are often served with whipped cream or ice cream, or both. These pies are easy to make. With just a few basic ingredients including pumpkin puree, eggs, sugar, flour, cinnamon, ginger, nutmeg, salt, and vanilla extract you will have this delicious treat prepared in no time!
Pumpkin pie has become a popular dessert for Halloween parties because it is so versatile. It can be served as an individual tart, in individual ramekins, or served in one large pie dish. The crust can either be fashioned out of store-bought frozen pie shells or made from scratch with flaky pastry dough.
3. Spooky eyeball cookies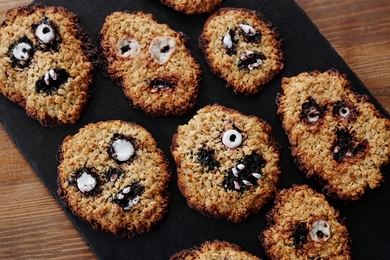 Photo from Pexels
Eyeballs are a classic Halloween decoration typically seen on mummy candies, light-up jack-o-lanterns, and even on cakes. Crafting eyeball cookies for this holiday is a fun activity that the whole family can enjoy. Because these treats are relatively easy to make, you can whip up a batch of them in no time at all with your favorite cookie dough recipe. These spooky eyeball cookies are a great way to celebrate the season. You can make them in advance, simply whip up a batch as you need them to have plenty on hand.
4. Monster Doughnuts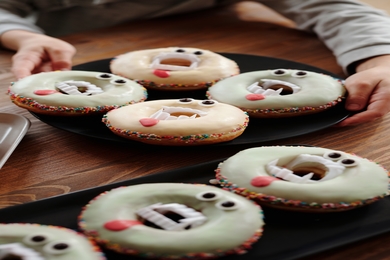 Photo from Pexels
Donut-shaped head and face with white frosting eyes, one can't help but stare at this whimsical monstrosity. They come in both traditional Halloween shapes like ghosts, spiders, and pumpkins as well as more obscure shapes like a ghost with a pumpkin head. Try making a monster doughnut in a few easy steps.
Step 1: Create the doughnut in a circle shape out of sugar. You can also use an empty can instead for this step to make it easier to cut the hole in the top.
Step 2: Grab a handful of chopped nuts and add them to your doughnut.
Step 3: Add some icing if you want your monster doughnuts to look extra scary!
5. Pumpkin Mac 'N Cheese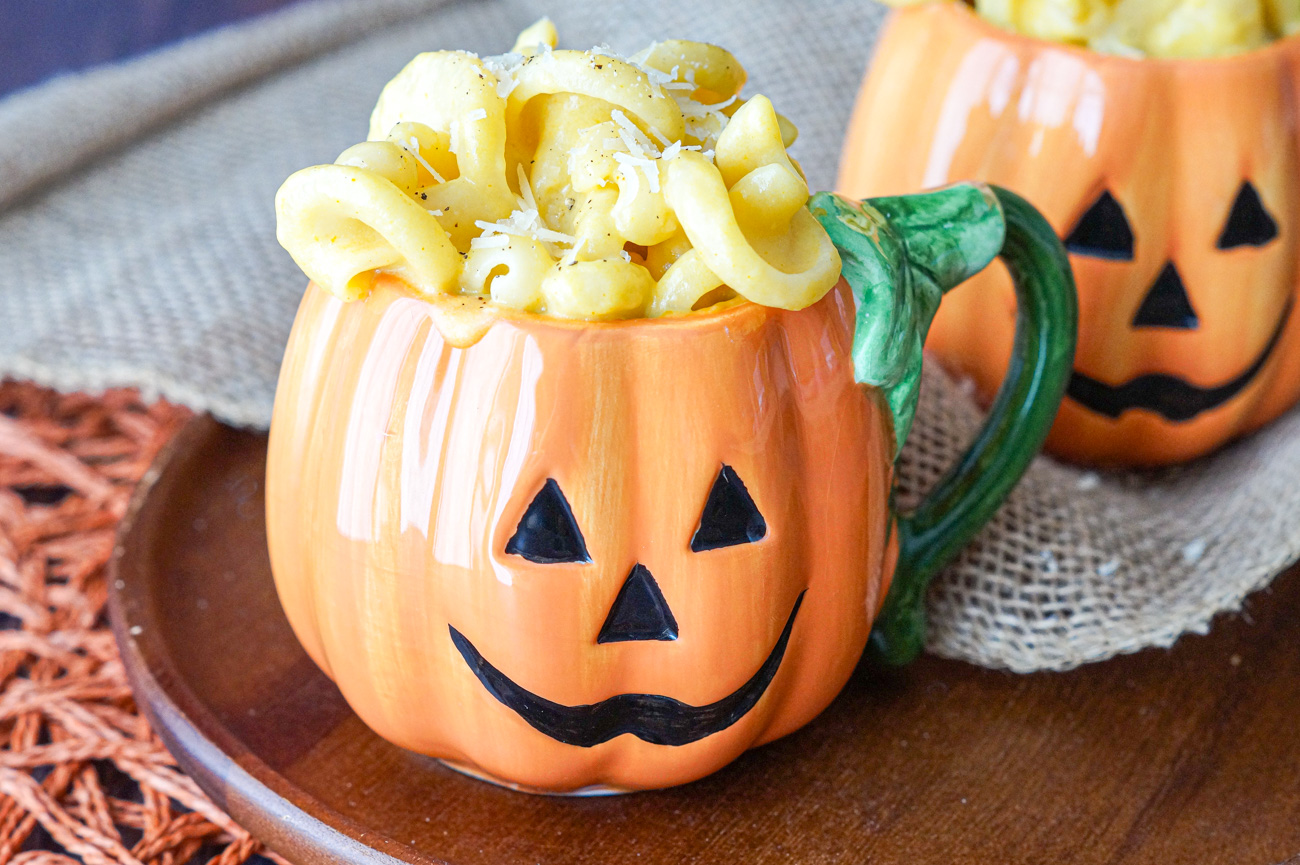 Photo from: Tara's Multicultural Table
Pumpkin Mac 'n Cheese is the perfect dish to serve at your Halloween party this year. It's an easy and delicious dish that can be customized for all of your guests' needs- whether they're vegetarian, or just plain picky! This recipe is a perfect way to include some extra veggies with a vegetable blend! The perfect food to evoke memories of Thanksgiving and Halloween all year long.
6. Zombie Marshmallows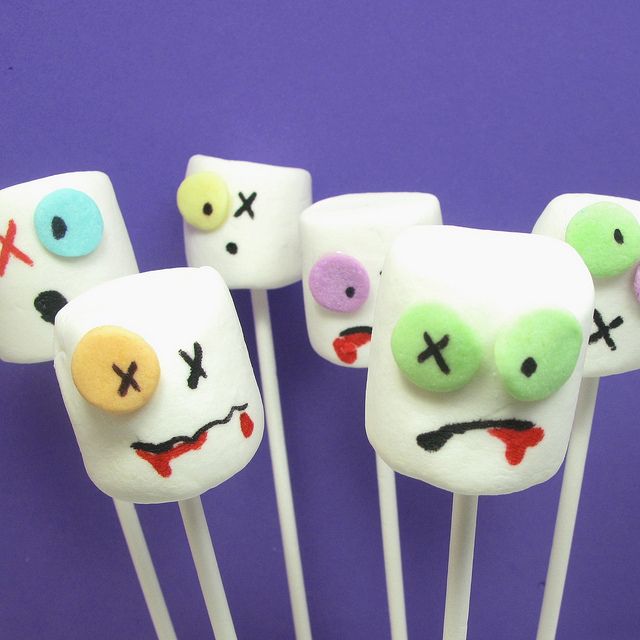 Photo from: Pinterest
Zombie marshmallows are a fun and easy Halloween recipe that kids will love to make with you. The marshmallows are eye-catching, gooey, and most importantly, delicious. Zombie marshmallow recipes can be found all over the internet and on YouTube. They're a quick and easy alternative to time-consuming candy corn or pumpkin spice chocolates.
Zombie marshmallows are a perfect Halloween treat. You can make them colorful or flavorful, and they don't require any cooking. They're easy to make and fun for the whole family.
7. Spider Web Taco dip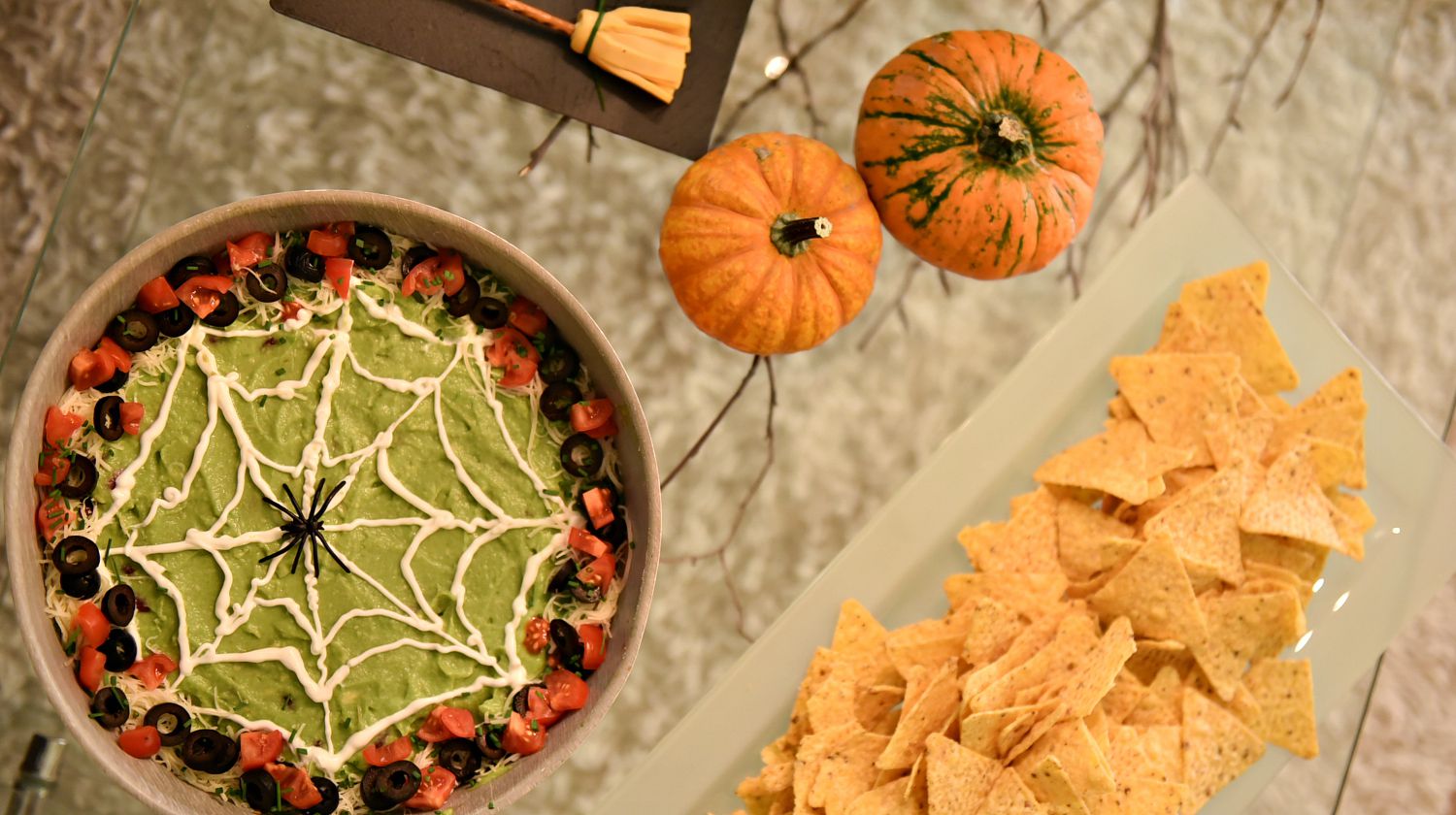 Photo from: DIY Projects
This recipe is a spicy mix of different flavors to bring your taste buds to life. Taco dip is always a tasty, quick appetizer to make. With the upcoming Halloween holiday, this recipe takes taco dip to a new level with spider webs for an extra scary look. The web design is easy to make by cutting chives into segments at their widest point, which gives them an hourglass shape. These can be dipped in ranch dressing or sour cream then placed on top of your favorite taco dip for an extra spooky touch!
8. Floating Eyeball Jello Shots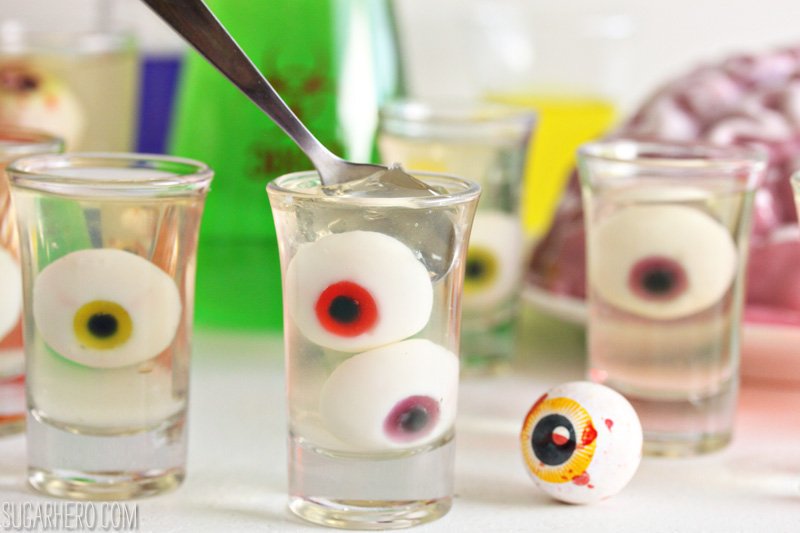 Photo from: SugarHero.com
The Jello Eyeball Recipe has become so popular that it's featured in Buzzfeed's "31 Fall Drinks That Will Blow Your Mind" and has starred in multiple blog posts and videos. Prepare to serve your guests something that will have them squealing with delight as they see what you've come up with because this is the ultimate creepy concoction. To make these frightening treats, just mix some regular Jello into a bowl, then place it in another bowl filled with water. Create a crack or opening to allow liquid to enter and start stirring until completely dissolved. This is a single serving made in a shot glass.
For any of your guests who don't want to drink your chilling bloodshot eyeballs, we recommend filling up some cups with apple cider or hot chocolate instead! Halloween is great to experiment with new recipes for wicked goodies. This year, serve your guests floating eyeball jello shots- a ghoulishly tasty treat to get everyone in the mood for trick-or-treating!
9. Skeleton Gingerbread Men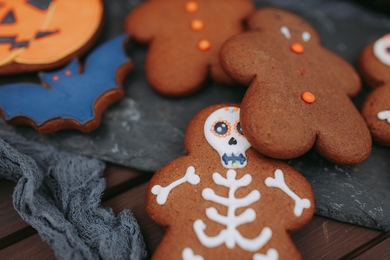 Photo by Pexels
This year we're going to show off our creative side and whip up some awesome skeleton gingerbread men. Gingerbread men are a great treat for the holiday season and can be made into spooky Halloween versions for all of your holiday parties. They're easy to make, use just a few ingredients, and they'll look awesome on your buffet table as the centerpiece. Mix up the dough, let it chill, then cut out some figures for baking. Once they're done, decorate them with icing and candies. Make them scary with fangs and bloody eyes or have fun by adding a colorful scarf or hat. It's up to you!
Skeleton gingerbread men are a great way to spook up your holiday baking. They are neat to look at, the kids will love the gruesome details, and they taste amazing! Just remember that any of these treats can be turned into other characters by using different icing colors for their clothing and accessories.
10. Dracula Dentures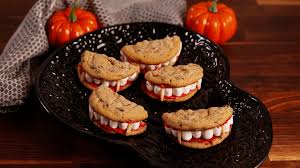 Photo by: WGN-TV
Dracula Dentures is a unique dish to serve on Halloween! They are easy to make and require only two ingredients: cookies and mini marshmallows. You can also add some red sprinkles for extra ambiance. The toothsome treats are not only the perfect Halloween candy, but also make for great party food. The vampire-themed chocolates can be made in advance and frozen, meaning that you can get the preparations done ahead of time and keep them on hand for any last-minute cravings.
11. Witch's Brew Brownies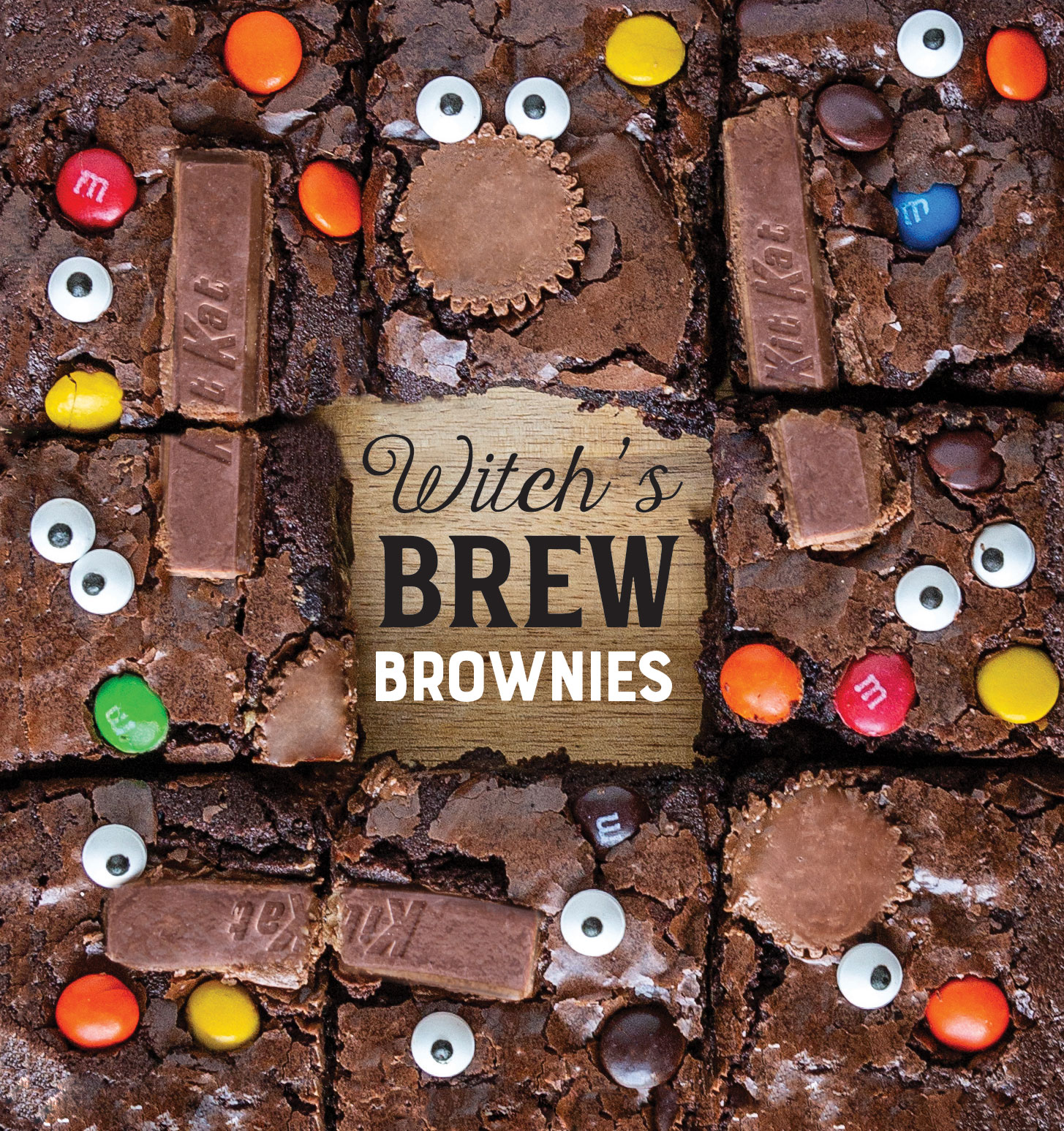 Photo by: Henderson Family Magazine
Witch's Brew Brownies consist of a rich, chocolate brownie base filled to the brim with creamy peanut butter and topped off with an assortment of candy pieces to create a yummy Halloween treat for you and your guests. For centuries, witches have been ingesting various herbs and plants to conjure spells and potions for their wicked purposes. Now, these same recipes are being reinterpreted as brownies! The brownies themselves are chocolatey, rich, fudgy, and full of sour cherry flavor. They come in an adorable witch's hat packaging that is perfect for any Halloween party or hand-out.
Adults and children alike will love the chocolate brownies that are sweet with cinnamon and vanilla flavors. There's plenty of time left before Halloween, which means you have plenty of time to whip up some Witch's Brew Brownies for your Halloween party!
Conclusion
Halloween is an exciting holiday for many people. Parties are a great way to get in the spirit of things. It is a fun time for kids and adults alike. It's also a time for parades, costume contests, tricks, and treating. It's a great time for an adult party on any day of the week in October. There are so many Halloween-themed games on the market that can be played at your party.
Halloween is quickly approaching, and you can still make time to plan a fun food party! There are many variations of the traditional Halloween-themed treats that you can enjoy at your gathering. You can also opt for non-traditional treats like mini pizzas, tacos, lasagna cups, or even desserts like cake pops. Try not to go overboard with cuteness--a little bit goes a long way. Candy corn cupcakes are always a favorite!